Throughout 2020 and into 2021, Chief Information Officers have spearheaded several new initiatives across both the private and public sectors to keep pace with the speed of change throughout the technology landscape. The onset of COVID-19 has only increased the need for innovative technologies to support this digital transformation.
Modernizing cyber, cloud, information technology, data, artificial intelligence and machine learning have been top priorities for CIOs across the GovCon sector, which will enable them to implement a seamless tech strategy to maintain a competitive edge.

During Potomac Officers Club's 2nd Annual CIO Forum, notable leaders across the federal government and industry will join together to discuss the latest priorities, initiatives and challenges CIOs will work to solve moving forward, and address the ways we can work together to build a culture of innovation.
Speaker and Presenter Information
Andrew Swearingen (Keynote Introducer)
Director, IT Infrastructure & Cloud
Lockheed Martin
Paul Dillahay (Keynote Introducer)
President & CEO
NCI Information Systems, Inc.
Juliane Gallina (Opening Keynote)
CIO, Central Intelligence Agency (CIA)
David Shive (Mid-Day Keynote )
Chief Information Officer
U.S. General Services Administration (GSA)
Mark Andress (Closing Keynote)
CIO
National Geospatial-Intelligence Agency (NGA)
Carlton Fox (Moderator)
SVP and Chief Product Officer
NCI Information Systems, Inc.
Jamie Holcombe (Panelist)
Chief Information Officer
U.S. Patent & Trade Office (USPTO)
Beth Killoran (Panelist)
Deputy CIO
U.S. General Services Administration (GSA)
John Garrett (Panelist)
Sr. Director, Federal Civilian Agencies
Dell Technologies
Jack Gumtow (Panelist)
Chief Information Officer
Defense Intelligence Agency (DIA)
Jose Padin (Moderator)
Director of Public Sector Engineering
Zscaler
Dorcia Jolliff (Panelist)
VP and CIO, Lockheed Martin Space
Lockheed Martin
Lawrence Anderson (Panelist)
Deputy CIO
U.S. Department of Commerce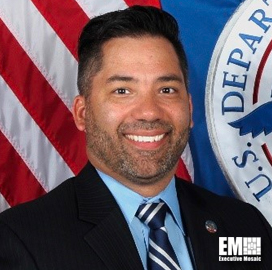 Sam Vazquez (Panelist)
Acting CIO
U.S. Cybersecurity & Infrastructure Security Agency (CISA)
William Berry (Panelist)
Senior Director, Business Engagement
Tricentis
Relevant Government Agencies
Intelligence Agencies, State & Local Government, Foreign Governments/Agencies
Event Type
Virtual
This event has no exhibitor/sponsor opportunities
When
Wed, Apr 7, 2021, 8:00am - 1:00pm
Cost

| | |
| --- | --- |
| Government: | $55.00 |
| Non-Member Government: | $75.00 |
| Member: | $130.00 |
| Guest Member: | $200.00 |
| Non-Member: | $300.00 |
Where
Virtual Event

Website
Click here to visit event website
Organizer
Executive Mosaic LLC