DOC Office of Privacy & Open Government Sunshine Week Event
The Department of Commerce's Privacy Office within the Office of the Secretary, Chief Financial Officer and Assistant Secretary for Administration, Office of Privacy and Open Government is hosting the DOC Office of Privacy & Open Government Sunshine Week Event as part of Sunshine Week. This event features a full day of speaking sessions and workshops, as well as a virtual vendor expo.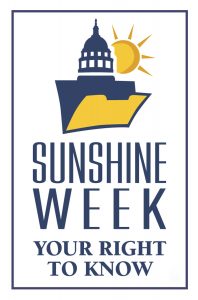 The main focus of Sunshine Week is to educate the public about the importance of open government and the dangers of excessive and unnecessary secrecy. This year's theme is
"Facilitating Transparency While Protecting Privacy,"
highlighting the fact that "government functions best when it operates in the open."

The Privacy Office is responsible for the development and maintenance of privacy policies, procedures, and guidance essential to safeguarding the collection, access, use, dissemination, and storage of personally identifiable information (PII), business identifiable information (BII), and Privacy Act information in accordance with the Privacy Act of 1974, the E-Government Act of 2002, Federal Information Security Modernization Act (FISMA) of 2014, and policy and guidance issued by the President and Office of Management and Budget (OMB). To learn more about the Freedom of Information Act (FOIA), you can go here: https://www.foia.gov/.
Relevant Government Agencies
Dept of Commerce
View Exhibitor/Sponsorship Details
Event Type
Virtual
When
Tue, Mar 16, 2021
Exhibit Dates
Tue, Mar 16, 2021
Cost

| | |
| --- | --- |
| Dept of Commerce Employees: | $0.00 |
Website
Click here to visit event website
Organizer
Federal Business Council, Inc.