6th Annual Military Additive Manufacturing Summit & Technology Showcase
DSI's 6th Annual Military Additive Manufacturing Summit is designed as an educational "Town Hall" forum, where thought leaders & key policymakers across military services, defense agencies, & civilian organizations can come together for actionable discussions & debate. This year's Summit will focus on the current/future advancements made in the 3D printing space as well as how the DoD is working to quickly integrate AM technologies in order to supply durable, affordable equipment & parts to the Warfighter in the battlespace.
Speaker and Presenter Information
Lt Gen Shaun Q. Morris, USAF
Commander, Air Force Life Cycle Management Center
PEO, Air Force Rapid Sustainment Office (RSO)


VADM Ricky Williamson, USN
Deputy Chief of Naval Operations for Fleet Readiness and Logistics
N4, Office of the Chief of Naval Operations

Deacon Maddox, SES
Director, Supply Chain Management
U.S. Army Materiel Command (AMC)
BGen Adam L. Chalkley, USMC
Assistant Deputy Commandant for Logistics Policy
HQMC


Kristin French, SES
Deputy Director, Logistics, J3
Defense Logistics Agency
Josh Brost
Vice President
Relativity Space


John Wilczynski
Executive Director
America Makes/NCDMM


Nima Shamsaei
Director, National Center for Additive Manufacturing Excellence (NCAME)
Auburn University

Expected Number of Attendees
500
Relevant Government Agencies
Air Force, Army, Navy & Marine Corps, Intelligence Agencies, DOD & Military, NASA, Other Federal Agencies, FAA, National Guard Association, Foreign Governments/Agencies
View Exhibitor/Sponsorship Details
VIDEO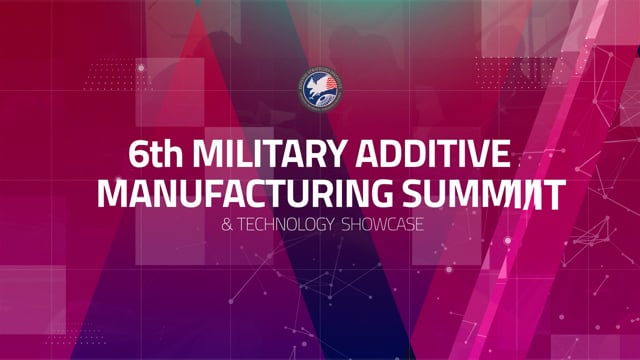 When
Wed-Thu, Jan 26-27, 2022, 7:15am - 4:00pm
Where
Hilton Downtown Tampa
211 N Tampa St
Tampa, FL 33602
Get directions
Website
Click here to visit event website
Event Sponsors
Exhibitors
STS Technical Group
,
GoEngineer
,
Fortify
,
Formlabs
,
Fabrisonic
,
ExOne
,
DSIAC
,
Big Metal Additive
,
Avonix Imaging
,
ASTM International
,
AddUp
,
3Degrees
,
6K Additive
,
Markforged
,
Mississippi State University
,
SLM Solutions
,
VJ Technologies
,
MatterHackers
,
Hartech Group
,
Westwind
,
Xact Metal
,
Trimech
,
Titan Robotics
,
SPEE3D
,
Sciperio
,
Rugged3D
,
REM Surface Engineering
,
Rapid Prototyping Services
,
Optomec
,
Penn United Technologies Inc.
,
Open Additive
,
NCS Technologies
,
NASA
,
NCDMM
,
GPAINNOVA
,
Xerox
Organizer
Defense Strategies Institute
Join the event conversation:
@dsi_group
milam2022